Norsap featured in the following:
---
Westport W125
Two Norsap 1100 chairs, with one custom armrest designed and developed to match the interior and HMIs on-board the Westport Yachts.
With Bridge Mate DP systems by Marine Technologies, you get a slimmer and comfortable helm chair with all the technology comfortable at your fingertips.
Read more about the Westport W125 in the link below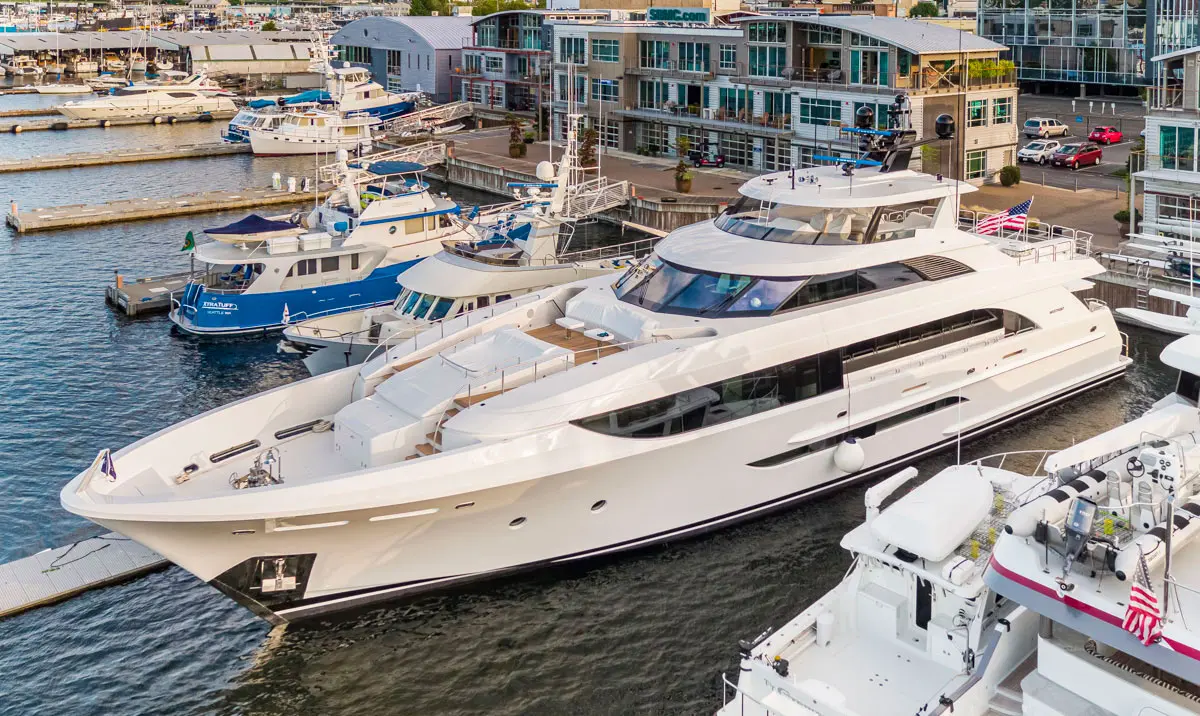 Royal Falcon One
Four Norsap 1500 are installed on the Royal Falcon One Power catamaran developed by the Singapore-based Royal Falcon Fleet and designed by the iconic Porsche Design Studio. The Royal Falcon One is a unique yacht that offers stability space economic cruising attributes with its multi-hull.
Read more about the Royal Falcon One in the link below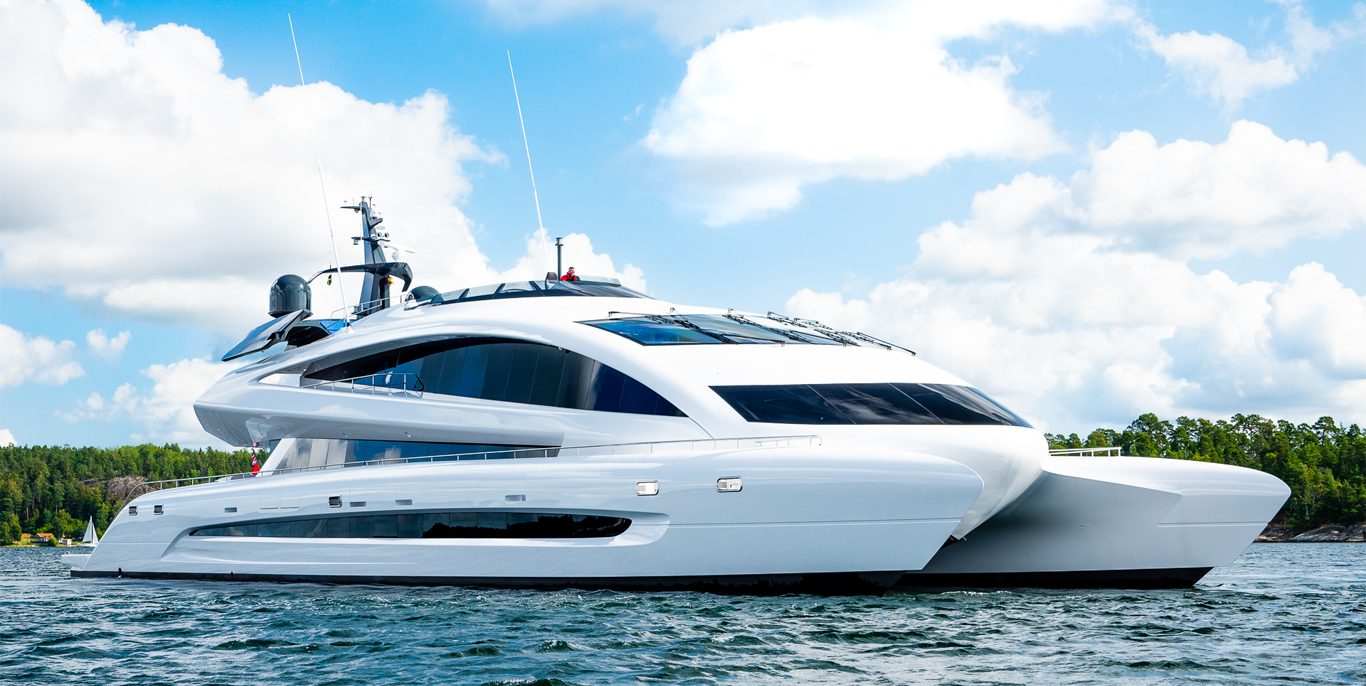 Edge
Sarp Yachts
One can control the XSR 85 from a Norsap 1600 with small armrests and upholstered backrest, with a composite Fast Displacement Hull Form, developed by Van Oossanen and carbon fiber superstructure. "Red Yacht Design has overseen both interior and exterior styling. With robust lines and a dark superstructure, the distinctive "Porsche Guards red" hull makes her unmistakable at sea." – BOAT International
Read more about the Edge from Sarp Yachts in the link below
HODOR
Super Yacht support vessel
Two Norsap 1500 chairs were selected for the vessel HODOR designed by Incat Crowther. We believe the name HODOR doesn't just fit for this superyacht support catamaran, but the two helm chairs as well.
You can read more about HODOR at the link below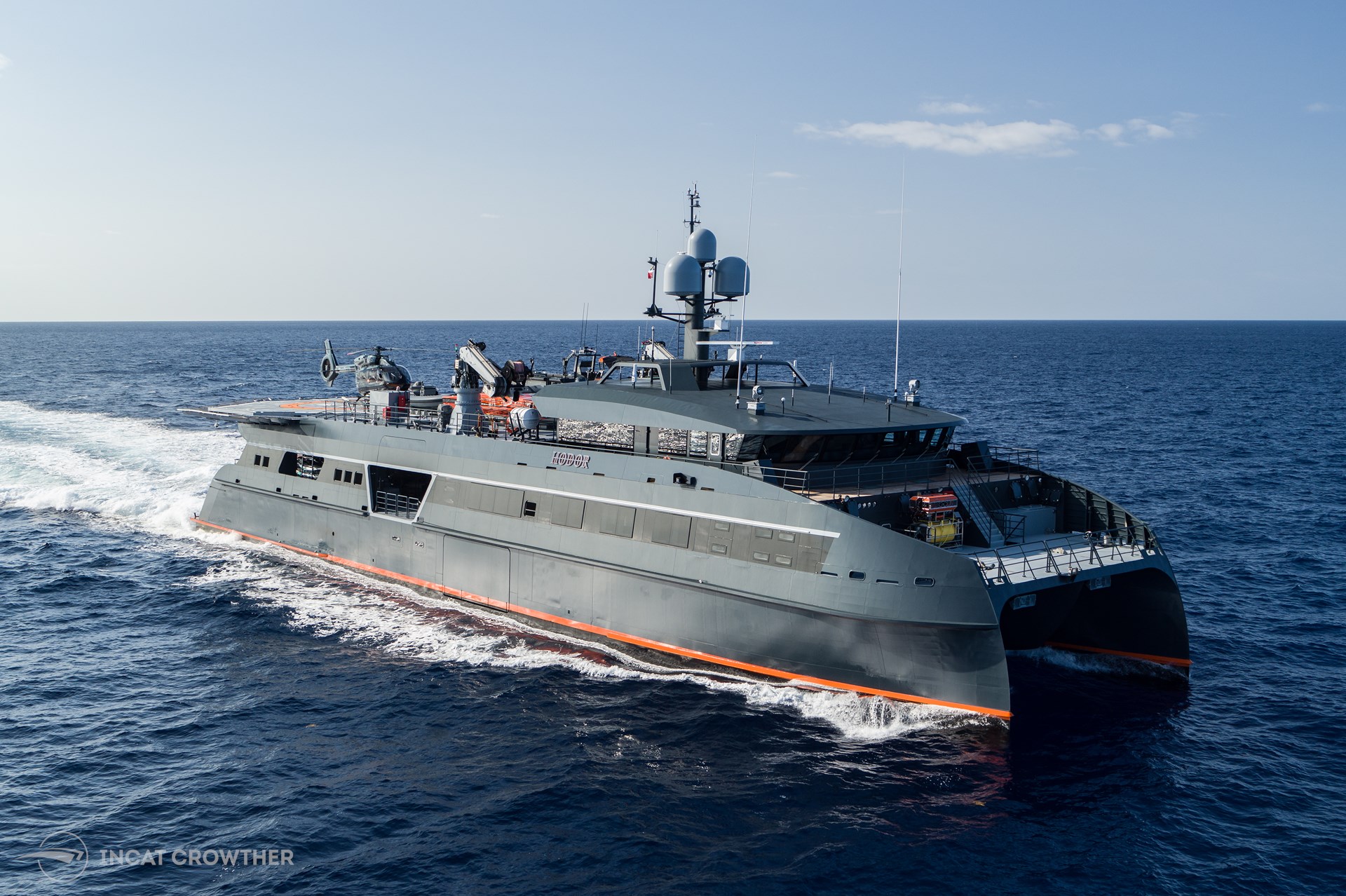 6711
Fast Support Vessel
There are four custom Norsap 800 chairs with Norsap 1000 armrests as navigator and operator seats. Accompanied by one Norsap 1500 as the helm chair. The combination of Norsap chairs shown in the 6711 Fast support vessel bridge is a much appreciated and effective setup for the crew.
The vessel was engineered and built by Damen shipyard, with Imperial acting as the Owner's Representative and Build supervisor.
You can read more about the vessel specifications in the link below
YXT 27


Lynx Yachts

One Norsap 1600 with small armrests was installed in the robust, explorer-style support vessel from LYNX YACHTS. The YXT 27 is a model developed with a clear objective: to deliver more for owners.

With exterior design by Bernd Weel, naval architecture by Diana Yacht Design, and interior design by Darnet Design, the YXT 27 is a striking vessel with many possibilities.

You can read more about the vessel specifications and LYNX YACHTS in the links below.
Spindeltop
Fifteen Norsap 1600 chairs as passenger chairs and one Norsap 1500 controller chair were installed in the 90′ pilot vessel. The largest all-aluminum U.S pilot boat set the benchmark on comfort passengers will experience with the Norsap 1600 full leather backrest.
Read more about the Spindletop by Breaux's Bay Craft, Inc. for Sabine Pilots in the link below
Windea La Cour
One Norsap 1600 with small armrests and a Norsap 4000 with custom-designed armrests with integrated Hatteland monitors and Lilaas controllers give you an ergonomic and excellent approach to managing the Bridge Mate system from Marine Technologies onboard the WINDEA LA COUR 88-meter Service Operation Vessel.
Combining Norsap deck rails and bridge consoles ensures you always have the proper controls within arm's length.
Read more about the Windea La Cour designed by Ulstein and Bridge Mate systems from Marine Technologies in the links below.
Fast Response Cutters
Norsap 1500 has been delivered as Pilot Chairs to all of the 46 Fast Response Cutters produced by Bollinger Shipyards LLC for the U.S. Coast Guard. The FRC platform has exceptional performance, expanded operational reach and capabilities, and ability to transform and adapt to the mission. An operational "game changer," according to senior Coast Guard officials.
MF Hydra
ZERO-emission ferry
Two Norsap 1600 and one Norsap 1100 were chosen for the e-SEA bridge system in NORLEDs MF HYDRA. The double-ended RO-PAX ferry was designed by Sembcorp Marine subsidiary LMG Marin and built by Westcon Yards.
The e-SEA bridge system by SEAM is where crew ergonomics and common dimming control of all bridge and navigation equipment are set up. This bridge system is developed closely with navigators, using modern design methodologies to ensure safe, ergonomic and efficient human-machine interaction.
HYDRA is The winner of Ship of the Year 2021
RO VISION

Three Norsap 1600 chosen for the RO VISION bridge. Ro Vision is the world's first hybrid wellboat and defines the standard for the future Live Fish Carriers. The vessel was designed by Skipskompetanse and has been developed in collaboration between Skipskompetanse, Rostein, Naviera Orca and Larsnes mek. Verksted.
RO VISION is The winner of Ship of the Year 2020
Norsap supplied the following:
---
Aker Maritime Hydraulic
Custom Driller Chairs for Offshore Platform.
Lynx Yachts
Helm chairs for the YXT 24 Evolution Support vessel
Damen
Captain chairs
Helm chairs for SEA AXE patrol and offshore supply vessels
Dutch/Belgium Navy Project
10 Dutch Minehunters – 60 Chairs and 50 Deck Rails.
6 Belgium Minehunters – 36 Chairs and 25 Deck Rails.
Hitec Products Drilling
An independent supplier of service and products to the drilling and well industry world wide.
Supplies both modification- and complete rig solutions.
Kongsberg
DP Chairs Thales Underwater Systems – UK.
L3 Communications Navigation
TR5013 Henschel Littoral Combat Ship – US Navy.
Marine Technologies – US
I integrated Chairs and Consoles – part of the Edison Chouest Group.
Mærsk
Captain Chairs Driller Chairs.
Oceaneering
Custom ROV Chairs – (Remote Operated Vehicle).
Offshore & Marine
Driller Chairs for Offshore Platforms.
Pacific Richfield
Singapore – Custom Project.
Rolls Royce
Custom Offshore Supply Winching Chairs.
Thales Underwater Systems – UK
The Australian Navy
Minesweeper and Frigates.
The British Royal Navy
Minehunters, Aircraft Carriers, Frigates.
The Finnish Navy
Minesweeper and Minehunter.
The French Navy
FRAM Project – 330 chairs for 12 Frigates. Chairs for Minesweepers. Delta Project – Frigates. BPC Project – Troop Carriers. Horizon Project – Frigates.
The Norwegian Royal Navy
Minesweeper and Minehunter. MTB "KV Skjold" Prototype. MTB 5 New Buildings. MTB Refurbishing. Coast Guard. Submarine. And other Vessels operated by the Norwegian Navy
The Singapore Navy
Bridge Chairs for 6 Frigates.
The Swedish Navy
Corvettes in "Visby Class" New Building.
The US Navy
USS Theodore Roosevelt (aircraft carrier)
US Coast Guard
Fast Response Cutter – Sentinel Class.
Other Chair supplier references;
Cruise Vessels
Fast Ferries
Fishing Vessels
Offshore Vessels
Rescue Service Vessels
Tankers
Tug Boat